Electrostimulation for the legs
22776

Views
0
Liked
Posted on:
04/05/2023
Electrostimulation is a natural method of stimulating a nerve or muscle using electrical impulses. Simply place the electrodes on specific areas of your body and choose the appropriate program to enjoy the benefits of electrostimulation.
Electrostimulation for the legs is particularly effective, whether it's for building muscle or relieving pain. Explanations.
What is electrostimulation and how does this method work?
Electrical muscle stimulation (EMS) is a method of stimulating the muscles using electrical impulses transmitted through electrodes placed on the skin. Electrostimulation allows you to choose between building muscles or relieving certain pains, this is called electrotherapy.
During physical exertion, electrical impulses stimulate the brain, ordering the muscles to contract. The impulses sent by an electrostimulation device work in the same way.
On the other hand, in this case, the muscular contraction comes from the outside, without the brain emitting a signal. In the long term, this practice strengthens the muscles and strengthens the deep muscles.
When it comes to pain, transcutaneous electrical nerve stimulation (TENS) acts as a decoy. It stimulates nerve fibers, so that the brain focuses on something other than the pain actually felt.
Overall, this non-invasive and harmless technique reproduces electrical signals from the brain through a harmless low-frequency electrical current.
Electrostimulation for the legs: which areas can it target?
It is common to use electrostimulation for the legs. It is therefore possible to strengthen certain areas, such as the thighs or calves or to reduce pain and relieve tension (aches, heavy legs, etc.).
Electrostimulation for the calves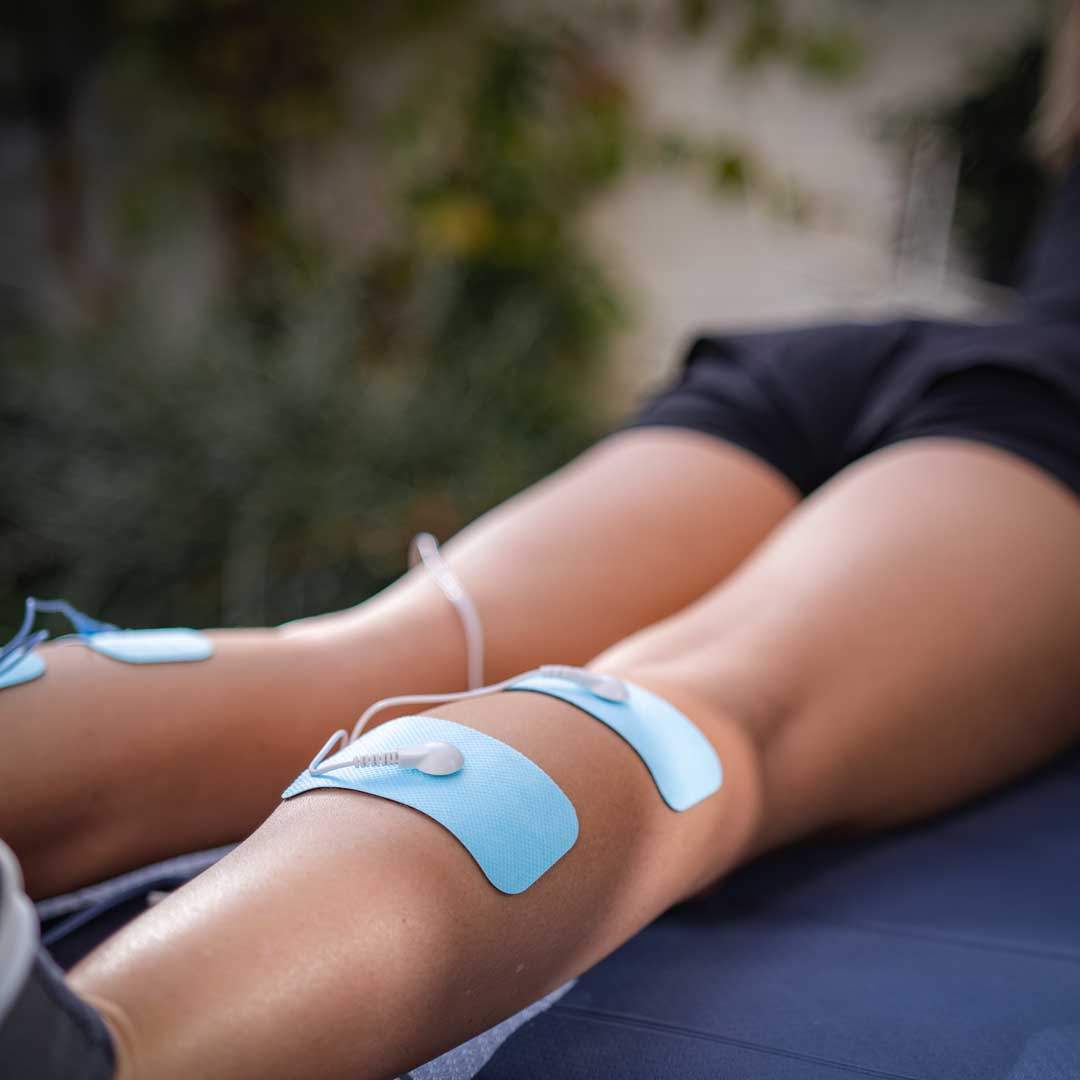 Electrostimulation can help you if you suffer from tight calves. In this case, applying TENS to this part of your lower limbs leads to better blood circulation.
In case of injuries, strains, bruises or even hematomas, electrotherapy can quickly reduce the pain in your calves.
If you suffer from venous insufficiency, diabetes, or hypertension, which are characterized by poor blood circulation in the legs, electrostimulation can help you. The feeling of heavy legs, cramps or even varicose veins will be relieved.
The electrical impulse produced stimulates the muscles artificially, reactivating blood circulation. The stagnant blood in the legs is then unblocked, directly thinning out your blood circulation.
Electrostimulation will also have a:
● Toning action: it prevents weakness in the leg muscles,
● Massage action: it helps to relieve pain in the calves,
● Recovery action: it eliminates toxins, restructures muscle fibers, reduces aches and relaxes muscles.
Note that you can also strengthen your legs through electrostimulation. In this case, you will have to apply the electrodes to your calves, choose the appropriate program and do physical exercises that work this area.
Electrostimulation for the thighs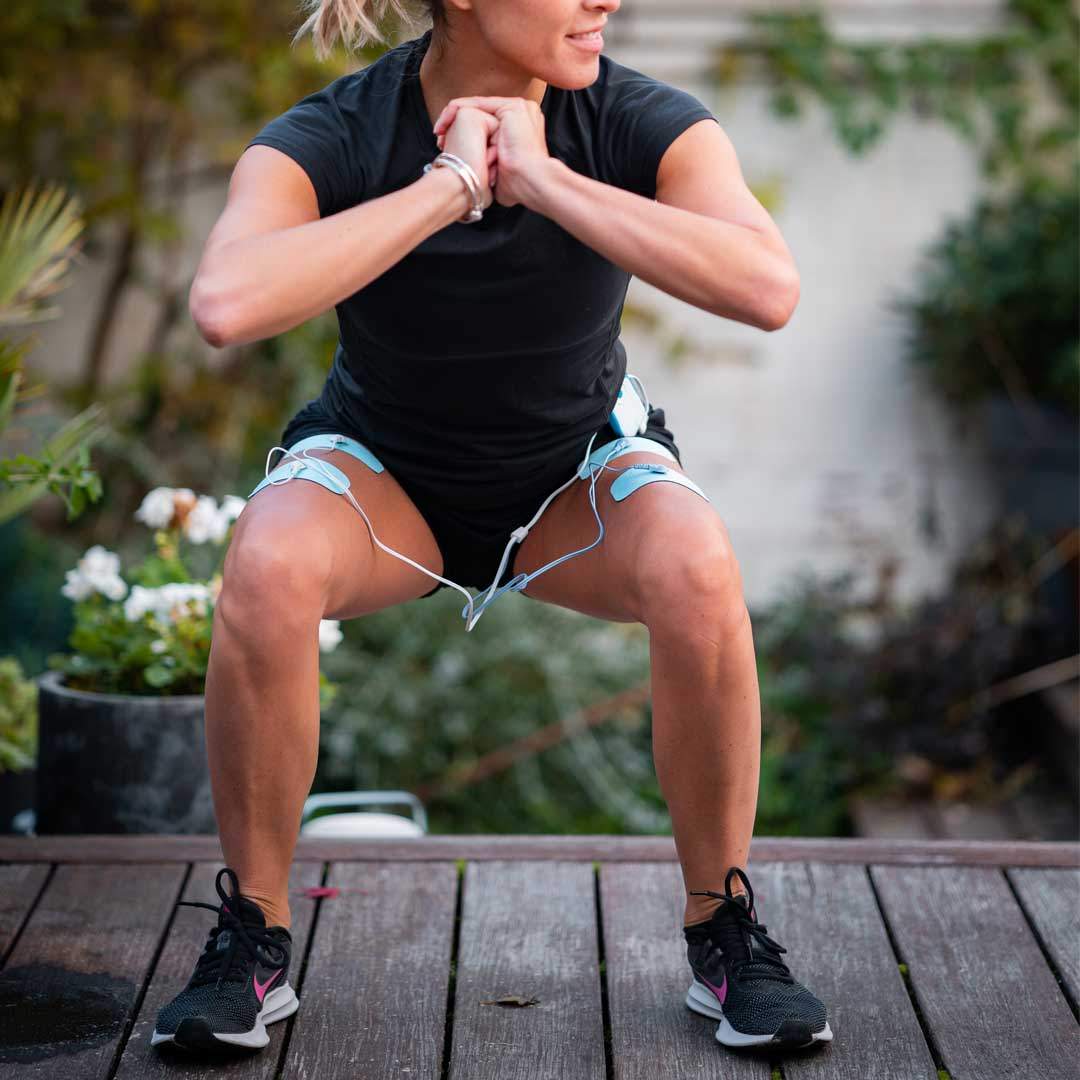 Electrostimulation is also an effective way to strengthen your thighs.
Through contractions, electrostimulation works the muscle and the curve of the leg. Another advantage is that the electrodes can reach muscles that are difficult to access using conventional fitness exercises.
On the other hand, it is not enough to just attach the electrodes and wait for the work to be done. For the method to be effective, it must be coupled with physical exercise. To strengthen your thighs with electrostimulation, you will therefore have to start by placing the electrodes on this part of your body.
Then, do targeted exercises to accompany the electrical impulses:
Squats,
Planks,
Knee raises,
Etc.
Finally, electrostimulation makes it possible to give a higher intensity to muscle strengthening exercises.
You can also use a specific electrostimulation program to relax your thigh muscles after training to avoid injuries.
In the same way, in case of contusion, muscle damage, contracture or tendonitis of the adductors, electrostimulation can provide relief.
Electrostimulation for the knees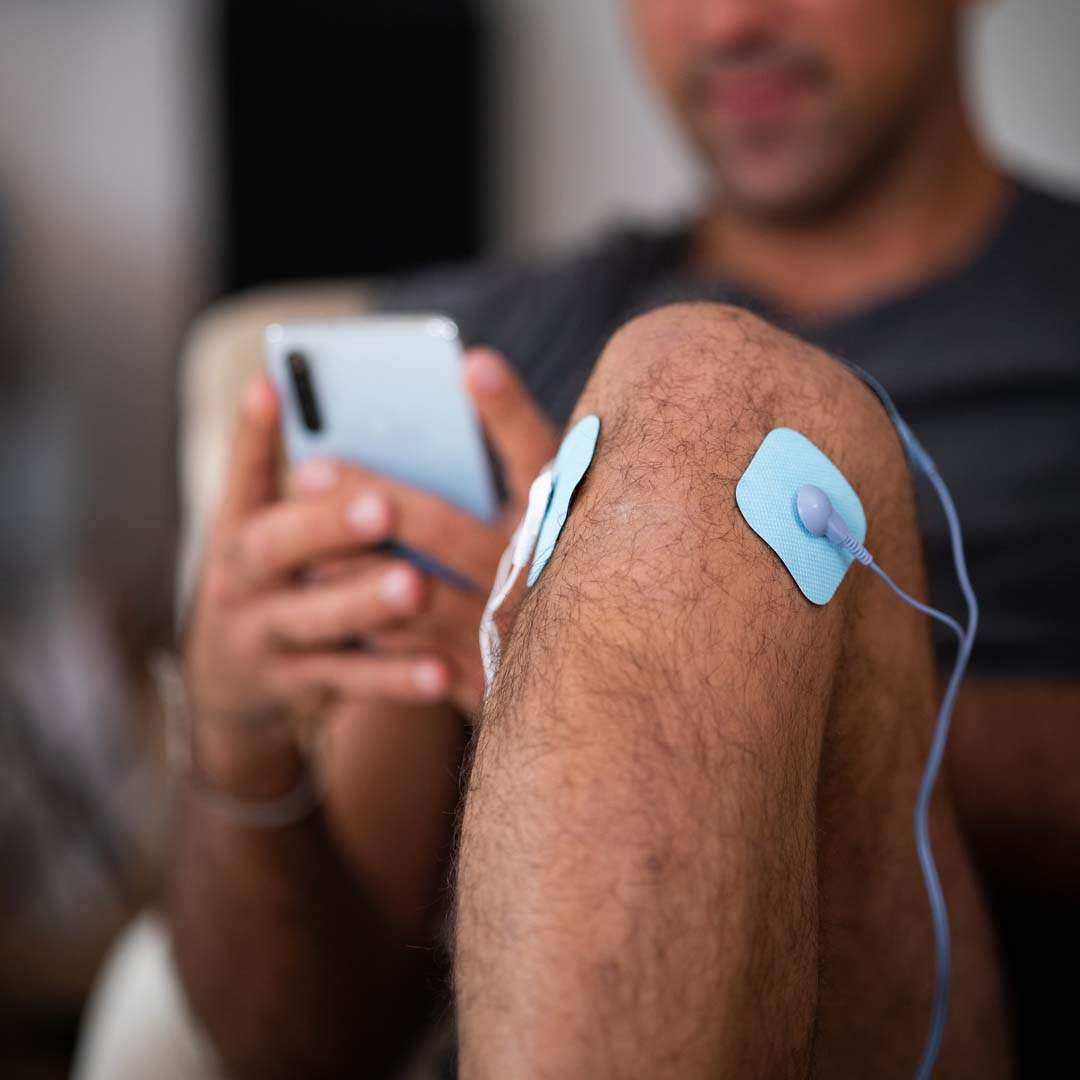 Runner's knee, rheumatoid arthritis, gonarthrosis (osteoarthritis of the knee) can thus be treated, immediately relieving the user's pain. For effective treatment, on the other hand, you must do at least one session per day, for at least two weeks. After this, you can adapt the number and frequency of the sessions according when you experience pain.
For electrostimulation to be effective on your knee pain, it is important to cover the painful area as much as possible with the electrodes. As a general rule, and depending on the pain, four electrodes placed on either side of the patella provide a significant analgesic effect for knee pain.
The benefits of electrostimulation for athletes
Electrostimulation helps to strengthen the muscles effectively. The method works on deeper muscles much more effectively than with traditional fitness methods. Each muscle group is worked on in a targeted manner using the electrodes. It is even possible to work the agonist and antagonist muscles at the same time, making the sports session particularly effective.
But that's not all! Thanks to electrostimulation, athletes can:
● Warm up more efficiently,
● Recover better after sports, as it reduces the risk of aches and muscle injuries,
● Sculpt their physique,
● Improve their physical performance and reach their goals faster.
The benefits of electrostimulation on the legs for seniors
There are also a number of benefits of electrostimulation for seniors. This method is extremely effective in relieving tension and joint pain.
It promotes blood circulation in older people and improves muscle work. In other words, electrostimulation allows seniors to develop their muscle mass while looking after their tendons and joints. The practice is smooth and without any jarring movements.
One session is enough to regain their balance and mobility:
● Your metabolism is activated,
● Your coordination and balance improve,
● Your joint pain is reduced,
● The feeling of heavy legs disappears,
● Your movements are refined and stabilized.
Is electrostimulation an effective method?
Electrostimulation, if done well, is an effective and scientifically proven method. It has been shown to reduce cramps and contractures. It offers athletes better explosive power and great performance.
Electrostimulation also greatly promotes recovery, reduces stress and acts as an antidepressant.