What is electrostimulation?
7410

Views
1
Liked
Posted on:
06/12/2021
Electrostimulation is a technique that consists of sending an electric shock to an area of the body through electrodes in order to cause a controlled contraction.
It is a therapeutic method that has multiple functions: reducing pain, relieving muscle tension or even sculpting the user's body. Electrostimulation is a concept that is becoming more and more popular, and which has many advantages.
What does electrostimulation consist of?
Electrostimulation is a method that reproduces the natural process used by the brain when performing a muscle contraction. Initially, it is the body that sends impulses, or nerve messages, to the brain so that it contracts the muscles.
Electrostimulation is based on the same principle. Electrical impulses are transmitted through electrodes placed on the skin of the user, without the order passing through his brain.
Electrostimulation is a gentle and natural technique that has been become more widespread since the middle of the 20th century for therapeutic or comfort purposes and is now widely used in the sports and physical activity worlds.
How does electrostimulation work?
Electrostimulation to build muscle
When you make a movement, your brain sends an electrical command to the muscles. Depending on the type of muscle fibers targeted and the characteristics of the electrical impulse sent, the muscles will contract with more or less force and over a longer or shorter duration.
Electrostimulation is a method that reproduces the natural process used by the brain when it contracts muscles. In this case, these are electrodes, placed on certain areas of the body, which send electrical impulses in your skin. This message is then transmitted to the brain, without going through the central nervous system.
Electrostimulation works through electrical impulses of varying intensity and frequency. Thanks to the multiple programs available, it is then possible to improve one or other of the different components of the muscle: elasticity, tone, strength, etc.
The settings also allow you to choose whether to train the muscle fibers fast (high intensity efforts of short duration) or slow (low intensity efforts of long duration).
Electrostimulation to soothe body pain
When electrostimulation is used against pain, it is called electrotherapy.
In this case, the electric current delivered by the electrostimulation acts as a decoy on the brain and stimulates the nerve fibers that suppress or trigger the sensation of pain.
The electrical impulses produced bypass the pain message transmitted to the brain. Its intensity is then reduced. The pain is reduced during the application of TENS (transcutaneous electrical nerve stimulation).
Note that electrostimulation also triggers the secretion of endorphins, further amplifying the feeling of well-being.
Fields of application for electrostimulation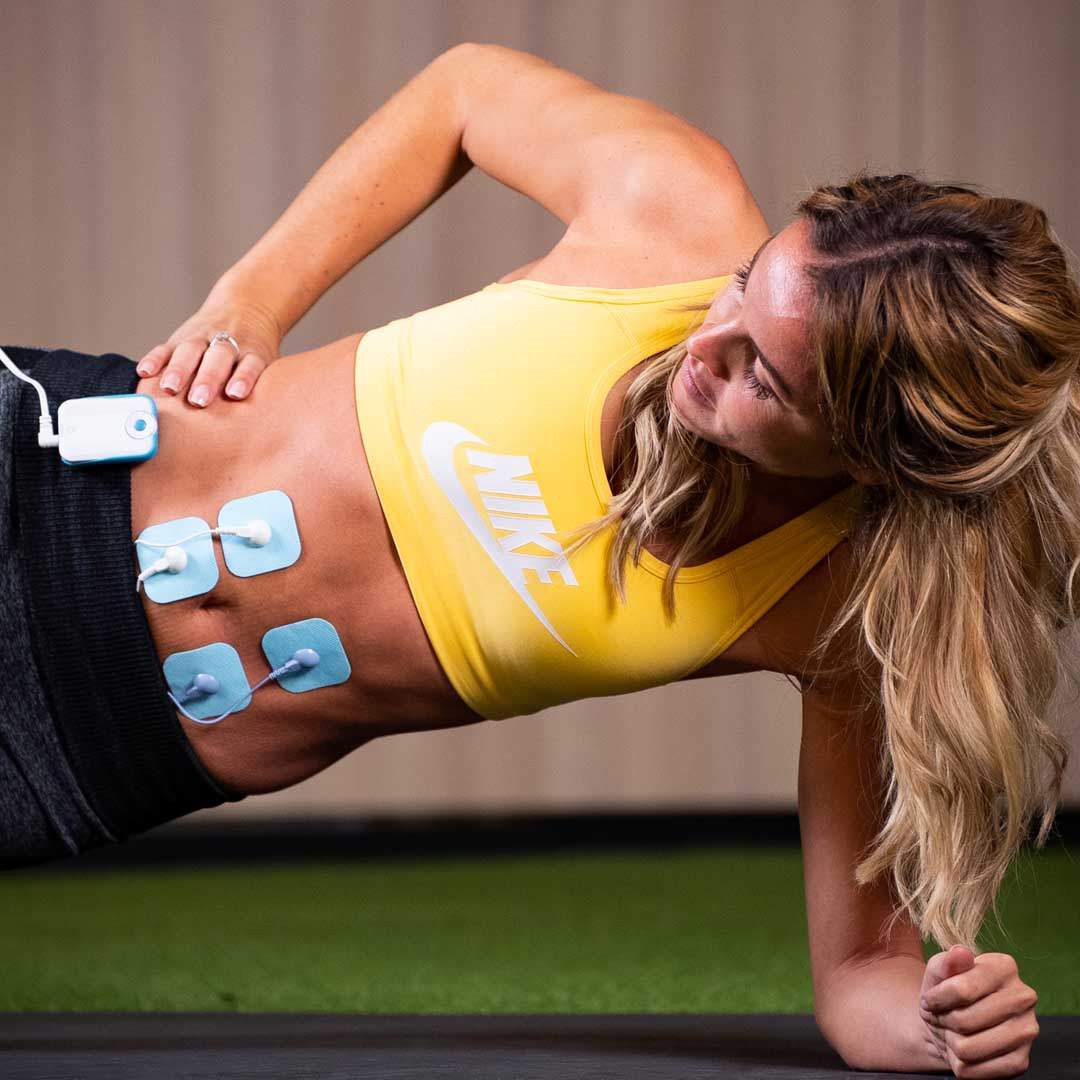 These days, electrostimulation has three main areas of application. It acts against pain, against muscle tension and helps you to strengthen your muscles.
Electrostimulation against pain
Transcutaneous electrical nerve stimulation (TENS) is a non-medicated and natural alternative solution, which acts effectively against all types of pain (osteoarthritis, tendonitis, sciatica, etc.). This non-pharmacological and non-invasive method uses low voltage electrical currents that are applied directly to the skin.
Simply place the electrodes around the pain point and start the appropriate program. Electrical impulses are then sent, producing a slight tingling feeling.
The goal is to inhibit the fibers by stimulating others. The cause of the pain is not removed, but the feeling is greatly reduced.
Depending on the program used, the pain may be eased immediately.
Electrostimulation against muscle tension and injuries
Electrostimulation is also ideal for treating muscle fiber. The system is such that it massages the muscles and encourages them to relax. Blood circulation is stimulated and toxins accumulated in the muscle are more easily evacuated. Pain and muscle tension are immediately relieved. In short, the athlete recovers faster than with simple passive rest.
Electrostimulation also helps prevent injuries and cramps. The method is effective against muscle pain and prevents recurrences.
Electrostimulation for building muscle
Finally, it is possible to combine physical activity with electrostimulation programs in order to build muscle more effectively. Top athletes have been using this method for many years.
This technique helps users improve their athletic performance. It strengthens the muscles and develops the strength and endurance of the athlete without harming the joints. Electrostimulation allows you to achieve your sporting goals in the best possible conditions.
The benefits of electrostimulation
There are many benefits of electrostimulation:
● It facilitates the physical preparation of athletes by accompanying you in your warm-up so that you can start your training without any worries,
● It speeds up recovery. During a sports session, the muscles are put to the test. Thanks to electrostimulation, they regain their initial shape more quickly and the aches disappear more quickly,
● The risk of muscle injury is reduced and you can reach your sports goals faster,
● Electrostimulation works deep muscle areas, which are often inaccessible through traditional training. You gain strength, speed and power without damaging your joints,
● Electrostimulation promotes localized fat loss and increases metabolism,
● The method provides lasting relief from various types of chronic pain (painful periods, tendinitis, low back pain, etc.).
Electrostimulation is an effective method. The studies are unanimous on this subject. The concept improves athletes' endurance, their explosive strength, and reduces fatigue.
The limits of electrostimulation
Electrostimulation has many benefits, but also has certain limitations. In this particular case, the method is not recommended for pregnant women. It is also not recommended for people with epilepsy or those who have a pacemaker.
If you have a bacterial infection, hypertension, heart rhythm disorders, asthma or certain kidney diseases, it is best to seek medical advice before testing electrostimulation.
Who can benefit from electrostimulation ?
Electrostimulation is widely accessible, and the therapeutic virtues of electrostimulation are recognized by the medical profession. This technique is intended for use by everyone, except for those with contraindications. High-level athletes, beginners, young or senior athletes can enjoy the benefits of electrostimulation.
This natural method can be very effective when used correctly. It is the ideal solution to complete your sports program, it is also perfect for reducing the feeling of heavy legs and improving your balance.
Conditions that can be treated using electrostimulation
Electrostimulation can treat various conditions such as:
● Osteoarthritis,
● Tendonitis,
● TFL (Tensor Fascia Lata), also known as wiper syndrome,
● Lower back pain,
● Endometriosis,
● Sciatica,
● Dysmenorrhea,
● Torticollis,
● Sprains,
● Sever's disease,
● Etc.
Electrostimulation: a dangerous practice?
Electrostimulation is not a dangerous practice. On the contrary, it is a gentle method that is not harmful to the body if used correctly. This is a very widespread technique today, which works in ascending and descending phases. The alternation of these two phases is imperceptible to the user and prevents any breakdown or muscle tearing.
In addition, the electrical impulse that circulates remains weak. The risk of burning yourself with the electrodes is therefore nil.